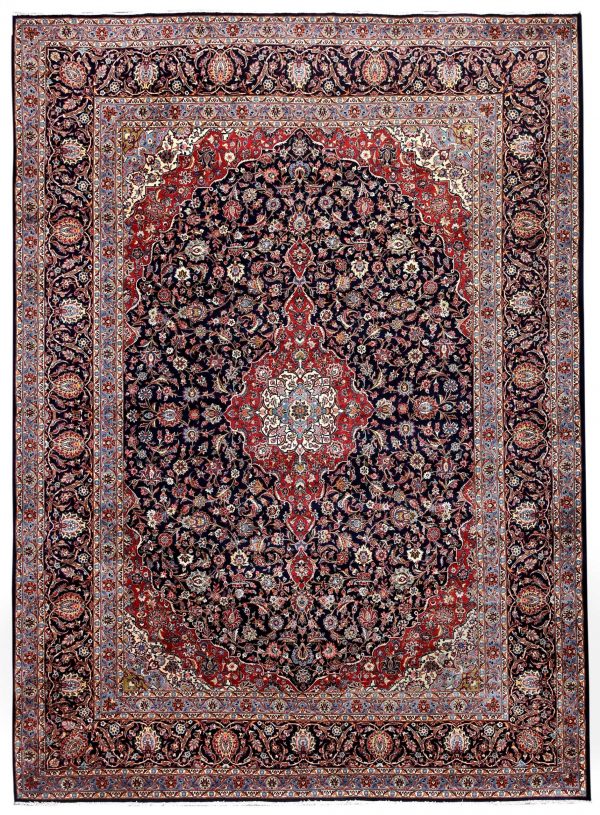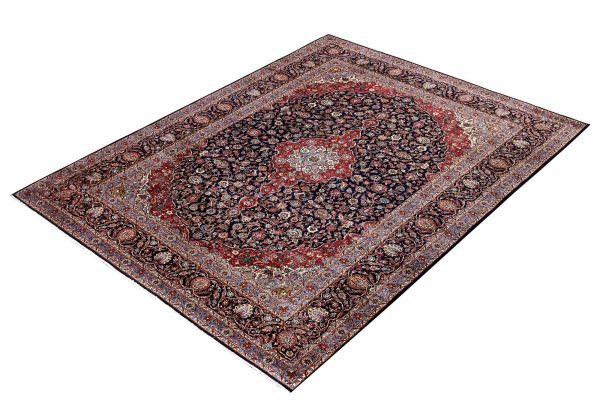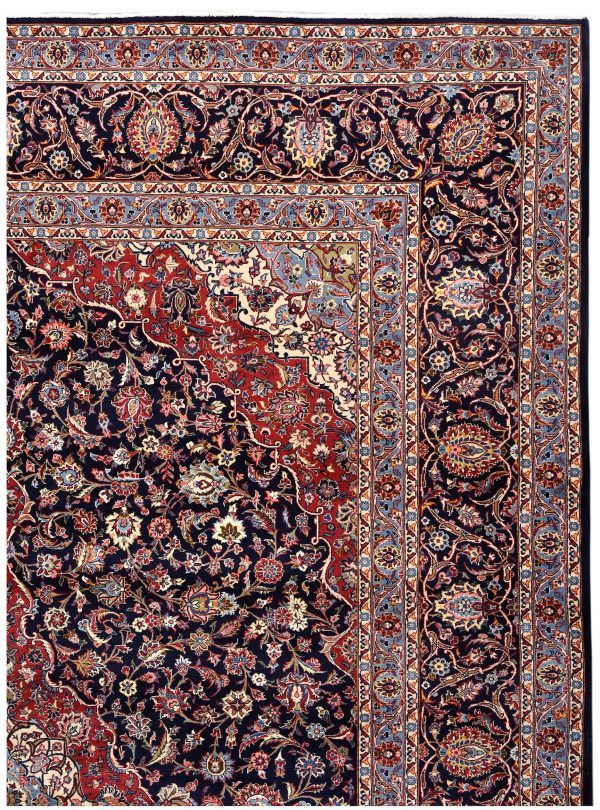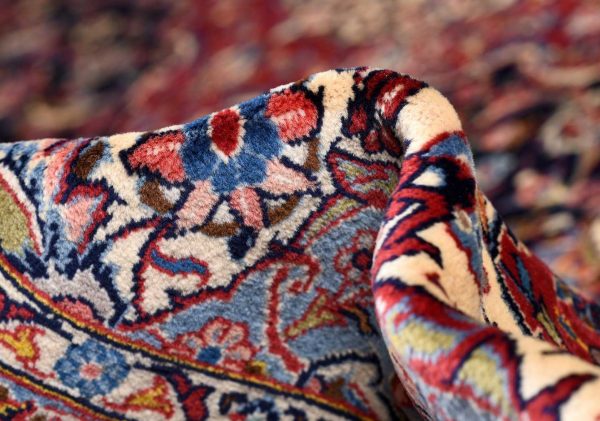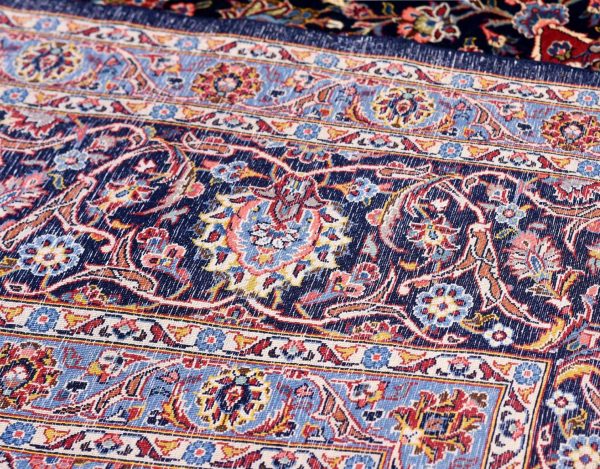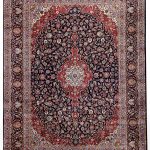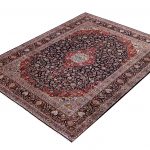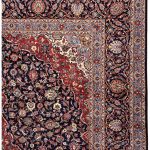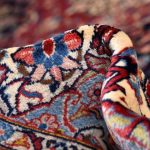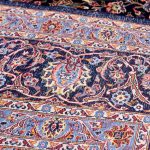 Vintage Persian Rug, Originated from Kashan, Floral Design ~1970
€ 3,580
This Original unique handmade Persian carpet is a very soft, large, authentic and unique 3x4m Kashan hand-knotted rug.  It's woven by the hands of Persian carpet weavers during about a whole year about 50 years ago. This is a fantastic and beautiful Persian carpet to design your rooms. This blue carpet calls to mind feelings of calmness, serenity, peace, and tranquility. So it's a good option to your bedroom decorating. Also, according to stability and reliability originating from its color and pattern, it is a good option for businesses like luxury hotels.
Estimated Value: € 3,580 ( Make an Offer )
Description
Additional information
Kashan carpets
We appreciate and respect your interest in culture and art especially in Persian Carpets in advance.

With all respects if you intend to acquire this carpet the minimum estimated value of this carpet is €3,580 . You can acquire this piece of art by filling the form below.

After making an offer we will contact you to provide free consulting about buying this carpet or any other carpet from our collections that will fit your needs and satisfy your sense of art.
Description
Over 50 years with Kashan women artists with this unique handmade Persian carpet. The size of this large carpet is 303×413 cm. The density of this exquisite and elegant Persian carpet is 350.000 knots/square meters. The export of vintage Kashan handmade rugs to different countries has become very important. European countries mostly want first-class handmade carpets in Kashan. This ultimate vintage rug first  is very beautiful and special for High-end interior designers and collectors who are famous all over the world. This classic rug design is skillful with  very soft and delicate wool, wool fibers are very strong and durable fluffy fibers are difficult to obtain because the fluff is the soft wool that remains on the shoulder when combing animal wool. Fur rugs have an extraordinary softness and softness. This Quality vintage Kashan handmade carpet never loses its value, rather, whatever increases the life of this carpet, this artistic and financial value also increases, second never lose their color so do not detract from their quality when washed. The use of vegetable and natural dyeing in handmade carpets dates back to several thousand years ago but today, also with the discovery of chemical and artificial dyes, use of very few and limited plant dyes. In fact, the benefits of using natural colors by using these colors in this vintage handmade carpet, after many years, the colors become much brighter and more beautiful and reach a certain maturity. These paints are resistant to sun, abrasion and washing with continuation of these factors, these paints will not disappear and the carpets will disappear over time when dyeing wools with these types of dyes chemical effluents are produced which are very harmful to nature, while dyeing effluents are natural dyes even. They can also be used to irrigate plants and trees. In fact the spirit and life that exist in natural colors are not visible in chemical dyes. The background of this original unique handmade carpet is Neil<Indigo color> it is one of the most  important colors that creates a natural blue color and is one of the beautiful and popular colors that you can easily set with other colors in home interior decoration. With this vintage Persian rug their soothing colors, they make the environment stylish and attractive also was used as a red color in this beautiful and eye-catching color combination that can appear more luxurious portray every home.
Specialized Washing and Repairing before to Export for customer:
1- First of all, this Persian carpet had specialized washing and removed its impurities completely.
2-Service <Repair> will increase the life of this Fine Kashan rug and restore its beauty and refurbishing the hand made Persian carpet, it is revived and its minor defects is eliminated, to perform these metals so that you have full.
3-Before Packing and Export Final checking without any damage, it looks like Healthy.
No allergenic

Natural color

Made of best soft wool

Heigh density and elegance

Authentic and Original
Dark Blue Kashan rug, Red Kashan carpet, Blue Persian carpet for sale online in Carpetship online store with high quality hand-knotted rug.
Additional information
| | |
| --- | --- |
| Color | Blue, Indigo |
| Size | 303×413 cm |
| Manufacturing | Handmade (Knotted by hand)) |
| Age | Approx 50 years |
| Carpet ID | DR-375 |
| Knot density | |
| Matreial group | |
| Origin | |
| Carpet Pattern | |
| Carpet Pile | |
| Carpet Warp | |
| Similarity | Unique |
| Also known as | |
Availability:

2 in stock
SKU:

DR-375