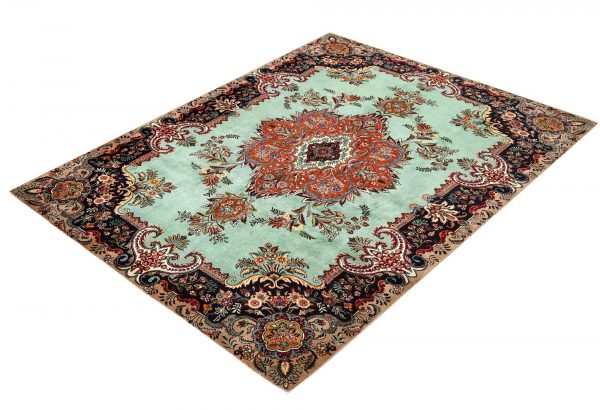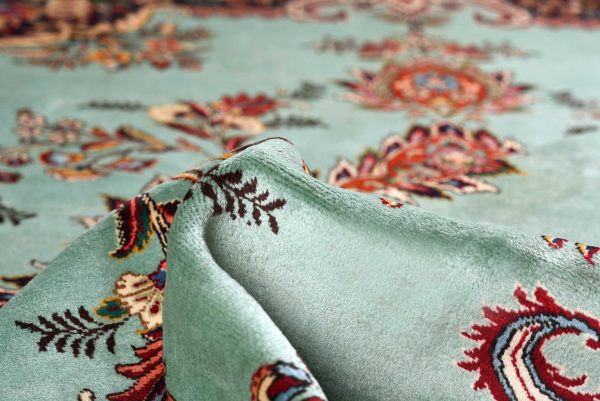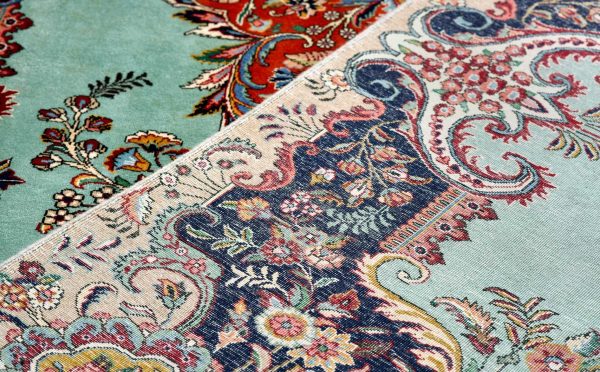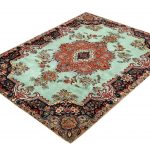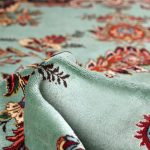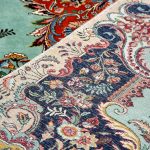 Antique Persian Rug, Originated from Tabriz, Floral Green Rug ~1960
€ 2,849
It is a fantastic and unique Antique Persian Rug to decorate your luxury house. It gives your room a royal spirit and makes it more exquisite. The green color within this persian rug is a cool color that symbolizes nature and fertility and relieves stress and helps heal. This shiny 2x3m Tabriz hand-knotted rug, with its unique green color and beautiful pattern, makes your room the envy of the block and represents tranquility, good luck, and health in your house.
Estimated Value: € 2,849 ( Make an Offer )
Description
Additional information
Persian Tabriz carpets
We appreciate and respect your interest in culture and art especially in Persian Carpets in advance.

With all respects if you intend to acquire this carpet the minimum estimated value of this carpet is €2,849 . You can acquire this piece of art by filling the form below.

After making an offer we will contact you to provide free consulting about buying this carpet or any other carpet from our collections that will fit your needs and satisfy your sense of art.
Description
A Persian Carpet Tabrizi 6 meter which knotted in Tabriz over 60 years ago, and it show the durability of Persian carpet is beyond human life.
From the unparalleled variety of Persian Pattern, we have selected Tabriz Rug for you. According to reliable sources, the history of carpet weaving in Tabriz dates back to the third Century AD, is known one of the oldest and most famous centers of hand-made carpet weaving in the world. Perhaps the artistic old carpets of our ancestors, who are still alive and immortal, stand on their feet and more value by stepping on them so our first choice can be the original Hand Knotted Persian Rug.
Persian hand-made rugs are considered as an inseparable and extremely luxurious member of interior decoration all over the world, this vintage Persian rug has a unique pattern with a combination of traditional and modern motifs, Meanwhile Tabrizi Artists tried to be aware of the tastes of the people of Europe and America and weave their Tabriz Rugs accordingly.  the main background color of this Tabriz Rug is a beautiful shade of the Green Color  is also a family of cool colors and in the psychology of carpet color, it is a symbol of Hope and Peace in life Meanwhile is very soothing with different types of color tonnage and can help revive hope in people's minds and hearts, a antique Persian rug with the dye from natural elements.
Specialized Washing and Repairing before to Export for customer:
1- First of all, this Persian carpet had specialized washing and removed its impurities completely.
2-Service <Repair> will increase the life of this Old Tabriz rug and restore its beauty and refurbishing the hand made Persian carpet, it is revived and its minor defects is eliminated, to perform these metals so that you have full.
3-Before Packing and Export Final checking without any damage, it looks like Healthy.
The density is 250,000 knots/ square meters and its warp and woof are from cotton, which makes it durable
No allergenic natural colors

Natural color

Made of best quality Tabriz wool

Heigh density of knots
Green Tabriz rug, Green Tabriz carpet, Green Persian carpet for sale online in Carpetship online store high quality hand-knotted rug. luxury and antique Persian Rug.
Additional information
| | |
| --- | --- |
| Color | Green |
| Size | 202×292 cm |
| Manufacturing | Handmade (Knotted by hand)) |
| Age | Approx 60 years |
| Carpet ID | DR-408 |
| Knot density | |
| Matreial group | |
| Origin | |
| Carpet Pattern | |
| Carpet Pile | |
| Carpet Warp | |
| Similarity | Unique |
| Also known as | |
Availability:

1 in stock
SKU:

DR-408