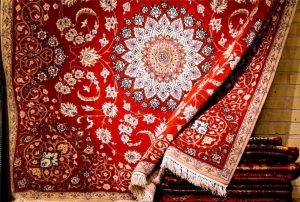 Tabriz carpet or Tabriz rug is a type of Persian carpet. Tabriz, a big city in northwestern Iran, was a historic center of carpet production and is a region well known for its carpets. After the mid-nineteenth century, Tabriz relaunched carpet production and has become a production center for export to all over the world.
Tabriz rugs are very diverse
Tabriz rug has particular importance. In the workshops of this city, the first carpets for export purposes were manufactured. After issuing old carpets abroad, the merchants began to produce them themselves in the workshops, from the measures and colors requested by European merchants. It is perhaps one of the reasons why these carpets are not distinguished by a particular color. Tabriz carpets have a great variety of colors and shadows are used to create depth in them.
Tabriz carpet design and pattern
Tabriz carpet pattern usually is consist of flower decoration, often with a central medallion. The motifs include flowering trees, shrubs, and large leaves. There are also specimens with animals and plant motifs. In Tabriz carpets, generally, there are three bands at the edge, adorned with the motifs of the field.
Tabriz Carpet's Quality and Density
Knot Type in Tabriz rug is Turkish knot and Vertical looms are used to manufacture it. The Tabriz carpet is usually knotted with medium length wool and silk is used rarely. Warp and woof are made of cotton and double for the weft which makes it very durable. The density of the knots in Tabriz Carpets is from 1,600 to 7,400 knots/dm²*.
The super finest textures of Persian carpets are woven in Tabriz.
Tabriz silk carpet
Tabriz silk carpets are also woven into silk flowers, whole silk or silk binding warp carpets, and Tabriz silk carpets are one of the best Persian carpets. Also, most of the silk used in tabriz rugs are made in Khorasan and Tehran.
* Knot density = warp×weft and 1,000/square decimeter = 100,000/square meter = 65/square inch = 179/gereh.