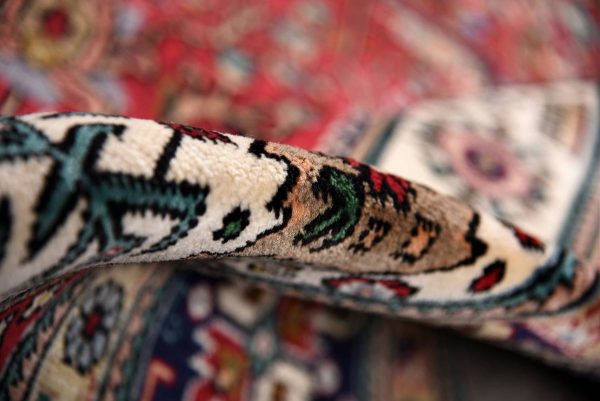 Vintage Persian Rug, Originated from Tabriz, Geometric design ~1980
€ 1,098
This 40 years old handmade and authentic red Vintage Persian Rug is Ideal for decorating homes. It has a six square meters area, with 160.000 knots/sqm density with shiny red background color and beautiful pattern full of flowers motifs. It makes rooms vivid and full of energy.
Estimated Value: € 1,098 ( Make an Offer )
Description
Additional information
Persian Tabriz carpets
We appreciate and respect your interest in culture and art especially in Persian Carpets in advance.

With all respects if you intend to acquire this carpet the minimum estimated value of this carpet is €1,098 . You can acquire this piece of art by filling the form below.

After making an offer we will contact you to provide free consulting about buying this carpet or any other carpet from our collections that will fit your needs and satisfy your sense of art.
Description
A 40 year Vintage handmade Persian Carpet
Persian rugs are considered as an inseparable and extremely luxurious member of interior decoration all over the world, it is really unimaginable to imagine a stylish and luxurious classic space without this Vintage Persian Rug. If there is going to be a lot of traffic on the carpet, this vintage Persian rug wool will be more practical and durable option.
This Vintage Persian Rug with geometric designs inspire warmth and dynamism in the space and are one of the most suitable ways to add pattern and role without any hustle and bustle. this design can be in a neutral color combination with a calm look that is perfectly suitable for stylish and contemporary house or with sharp and lively colors for special decoration. One of the colors that is always popular and can be used everywhere is red. Now I want to say that can hardly be used in the color scheme of the house, but I disagree with you, I think RED in the DECOR, if used properly will be one of the Unique and special colors. If you combine with crimson the same as this  Vintage Tabriz Rug make the right combination also the crimson is dark and warm so that you have a warmer environment.
Persian Red Rug woven in Tabriz
Choosing a Vintage Persian rug  is not an easy task, but we have made it easier for you to choose it. This handmade Persian carpet is exactly 315 cm long and 205 cm wide. This Persian carpet is more than 40 years old, woven before 1980, which adds to the value and price of this Vintage Persian rug. Additionally, this carpet is from the city of Tabriz, where carpet weavers are famous for producing high quality and durable Persian rugs with beautiful and unique traditional Persian designs.
The design used in this handmade carpet is called the broken branch (Shakhe Shekasteh), which is a combination of curved and geometric patterns. The pattern has woven perfectly symmetrically, and not one slight error exists in the texture. In the traditional dyeing of yarns used in this carpet, natural and organic materials have been used .
The knots in this red Tabriz  rug is  Turkish style, and like most of the handmade rugs made in Tabriz, this  Persian carpet  also uses two strands of fabric which has increased its durability and long-lasting.
Specialized Washing and Repairing before to Export for customer:
1- First of all, this Persian carpet had specialized washing and removed its impurities completely.
2-Service <Repair> will increase the life of this Vintage rug and restore its beauty and refurbishing the hand made Persian carpet, it is revived and its minor defects is eliminated, to perform these metals so that you have full.
3-Before Packing and Export Final checking without any damage, it looks like Healthy.
No allergenic natural colors

Natural color

Made of best quality Tabriz wool

Heigh density of knots
A Vintage Persian Red Rug with 160k knots/sqm density and Shakhe Shekaste Design. This 2×3 meters (6 square meters area) Persian Red carpet is for sale online. This 40 years old vintage persian rug has a beautiful and colorful pattern.
Additional information
| | |
| --- | --- |
| Color | Red |
| Size | 315x205cm |
| Manufacturing | Handmade (Knotted by hand)) |
| Age | Approx 40 years |
| Carpet ID | DR-306 |
| Knot density | |
| Matreial group | |
| Origin | |
| Carpet Pattern | |
| Carpet Pile | |
| Carpet Warp | |
| Similarity | Unique |
| Also known as | |
Availability:

1 in stock
SKU:

DR-306