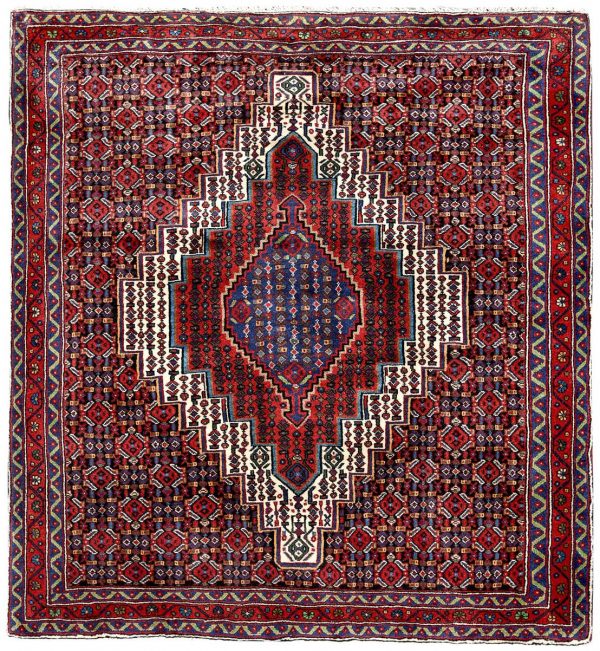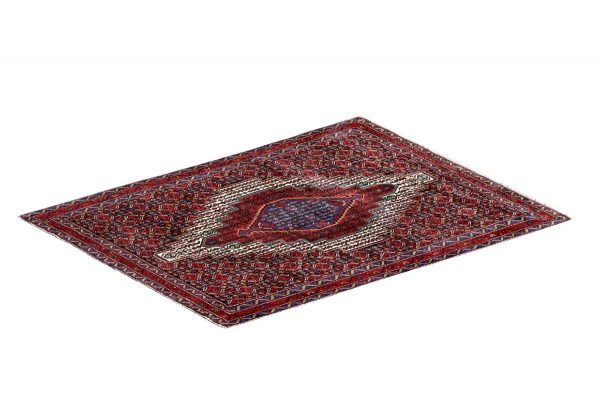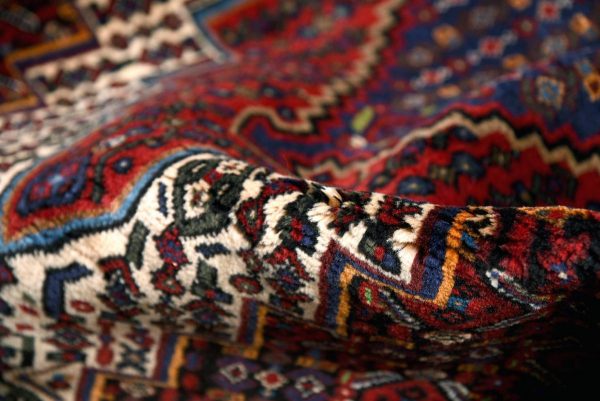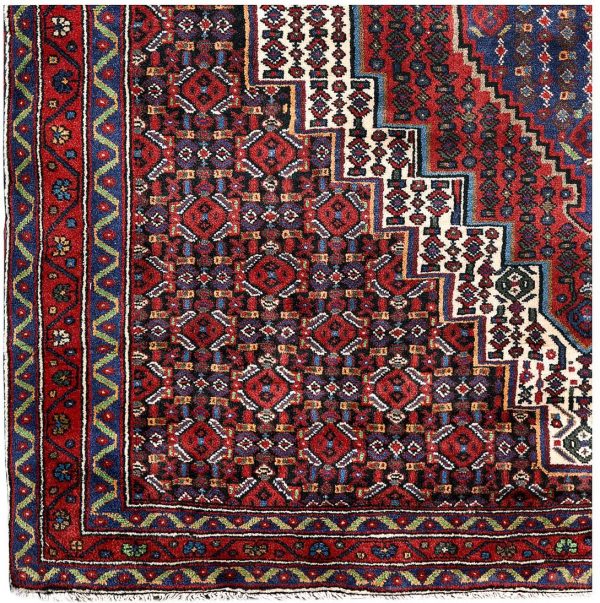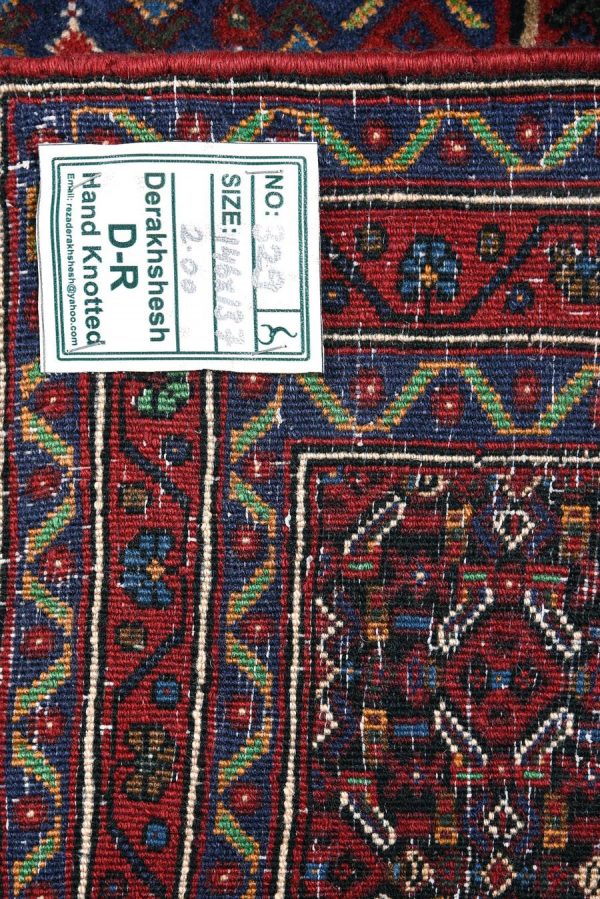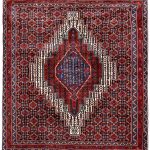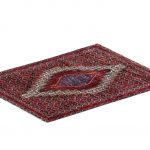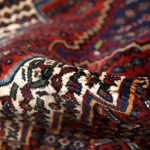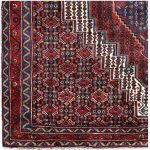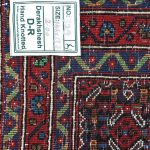 Vintage Persian Rug, Originated from Senneh, Geometric Design ~1991
€ 439
An original and beautiful handmade work of art from Persia.. This red rug woven with Mahi design or Herati more than thirty years ago in Sanandaj, Iranian Kurdistan. All materials and dyes used in this rug are natural.
Estimated Value: € 439 ( Make an Offer )
Description
Additional information
We appreciate and respect your interest in culture and art especially in Persian Carpets in advance.

With all respects if you intend to acquire this carpet the minimum estimated value of this carpet is €439 . You can acquire this piece of art by filling the form below.

After making an offer we will contact you to provide free consulting about buying this carpet or any other carpet from our collections that will fit your needs and satisfy your sense of art.
Description
Kurdish Oriental Rugs
Carpet weaving is very old in Kurdistan province and Kurdish Rug is one of the most original handicrafts in Iran. The existence of examples of handmade rugs in the carpet museum, which is for the Qajar era, documents the presence of Kurdish carpet weaving in the past centuries. From the past to the present, carpet weaving has been one of the main sources of income for Kurdish families, and Kurdish men and women have worked side by side to weave rug and kilim. Carpet weaving is common in most cities of Iranian Kurdistan, but Sanandaj (Senneh), Bijar, and Bukan carpets are better known in the world today.
After the high quality and thick material of Kurdish rugs, special geometric designs, which are usually taken from the lifestyle and culture of Kurdish people, and the unique natural colors used in them, have made these carpets different from other oriental rugs. The colors that can be seen in most of these carpets are blue, red, green, cream, and brown. Kurdish carpet weavers completely spun fibers, and this makes it possible to see the knots of the carpet well when you look at behind the carpet.
Senneh Oriental Rugs

The city of Sanandaj (Senneh) has a history of more than six thousand years. Senneh rugs are considered as coarse woven carpets. Their texture is usually single weft and their warp is twice the size of nomadic rugs. In order to make the pattern more visible, the pile is cut short. The dimensions of Senneh handmade rugs are usually not very large. They are woven in a small size under the influence of nomadic weavings of this region.

Mahi Design Rugs
If you ask locals about the most common design used in Kurdish rugs, the Mahi Darham (tangled fish) design will undoubtedly get more points. The tangled fish design or "Herati design" is one of the most common carpet weaving patterns in Persia, which became popular from the Timurid and Safavid eras (more than five hundred years ago) and because it became popular in the city of Herat, it is called Herati. In addition to the many mixed species of Herati and fish design, its use has been common in ancient Iran (Persia) from the North Caucasus, Samarkand, Bukhara, Khorazm, Azerbaijan and present-day Armenia to the Oman Sea and the port of Genaveh in Iran.

About this Kurdish Oriental Rug

This thirty-year-old oriental rug is a hand-woven Kurdish carpet woven in Sanandaj (Senneh). The surface of this carpet is very close to the square and its dimensions are 146 by 137 cm. The density of knots used in this carpet with a Herati design is 160,000 knots. Natural wool is used in the pile and knots. While the cotton thread is used as the warp and weft.
No allergenic

Natural color

Made of best quality natural materials like wool and cotton

Unique design
This hand-woven Kurdish Oriental Rug is for sale online in CarpetShip online Oriental carpet store. A 30-years-old Red Oriental rug made in Senneh in Iran.  Find best Oriental rugs & Oriental Carpets from our online carpet store.
Additional information
| | |
| --- | --- |
| Color | Red |
| Size | 146x137cm |
| Manufacturing | Handmade (Knotted by hand)) |
| Age | Approx 30 years |
| Carpet ID | DR-329 |
| Knot density | |
| Matreial group | |
| Origin | |
| Carpet Pattern | |
| Carpet Pile | |
| Carpet Warp | |
| Similarity | Unique |
| Also known as | |
Availability:

1 in stock
SKU:

DR-329