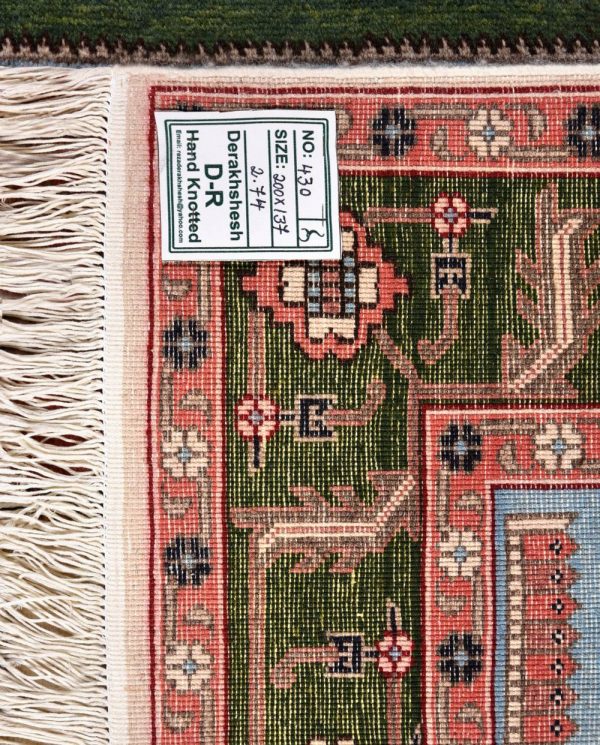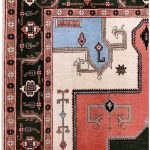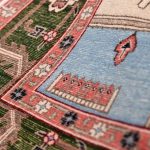 Vintage Persian rug, Originated from Ardabil, Geometric Design ~2001
€ 585
A 20 years old small Ardabil hand-knotted cream carpet with bright background colors and unique design. This carpet has 180.000 density and is for sale online.
Estimated Value: € 585 ( Make an Offer )
Description
Additional information
We appreciate and respect your interest in culture and art especially in Persian Carpets in advance.

With all respects if you intend to acquire this carpet the minimum estimated value of this carpet is €585 . You can acquire this piece of art by filling the form below.

After making an offer we will contact you to provide free consulting about buying this carpet or any other carpet from our collections that will fit your needs and satisfy your sense of art.
Description
Ardabil Guli Carpets
Gol or Goli carpet pattern is also known as Gul or Guli, a carpet Pattern model that is widely woven in the Ardabil region in northwestern Iran. Guli is the same Toranj in the pattern of most Persian rugs combined with geometric designs. Guli Carpets are woven in the form of one bergamot or "beer Gul" in the Azari language, or two bergamots, (Iki Gul) or the form of three bergamots (Uch Gul) and more Moreover, Uch Goal designs are more common in Ardabil.
There are also different types of Guli designs. Square Guli designs, rhombus Guli designs, cross Guli designs, hexagonal Guli designs, octagonal Guli designs, solar Guli designs, and other regular and irregular Guli designs. Guli carpets are often woven from high quality shiny and thick wool with Turkish knots and long pile.
About this cream carpet
This is a handmade Persian carpet that was woven more than twenty years ago with a Guli pattern in Ardabil city. This handmade carpet is 200 cm long and 137 cm wide. Besides, in each square meter of this carpet, more than 180,000 knots have been used and 12 different colors have been used in its designs. The main tones used in the background of this carpet are cream, red and light blue. Additionally, Ardabil carpets are famous for their bright colors. Moreover, Architecture has long been considered in Iran and Ardabil and the designs used in Iranian architecture have been used in this carpet. The geometric design used in this carpet has many fans in interior decoration.
No allergenic natural colors

Natural color

Made of best quality soft wool

Heigh density of knots
Order this 20 years old authentic Ardabil carpet with a beautiful Guli Design now. Moreover, you can order any other Ardabil carpets online in our online store.
Availability:

1 in stock
SKU:

DR-430