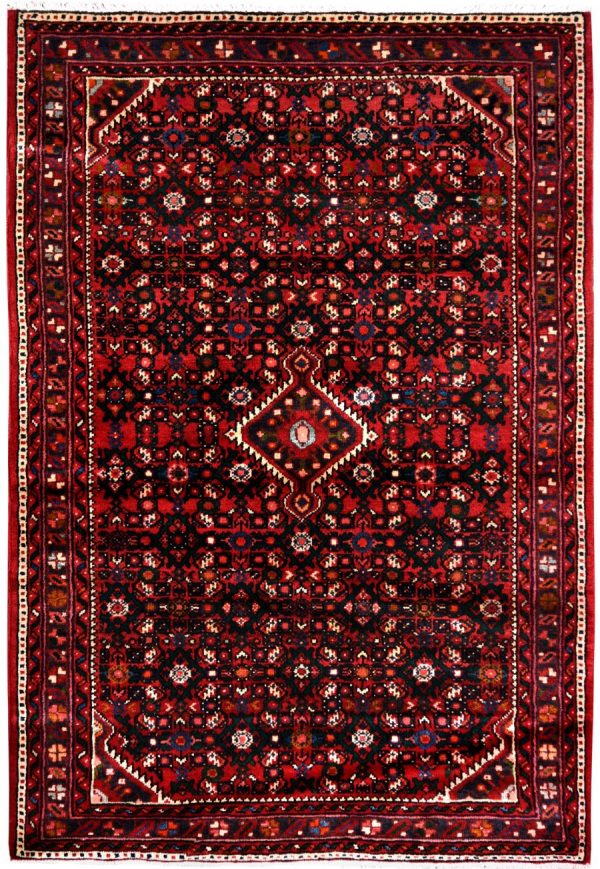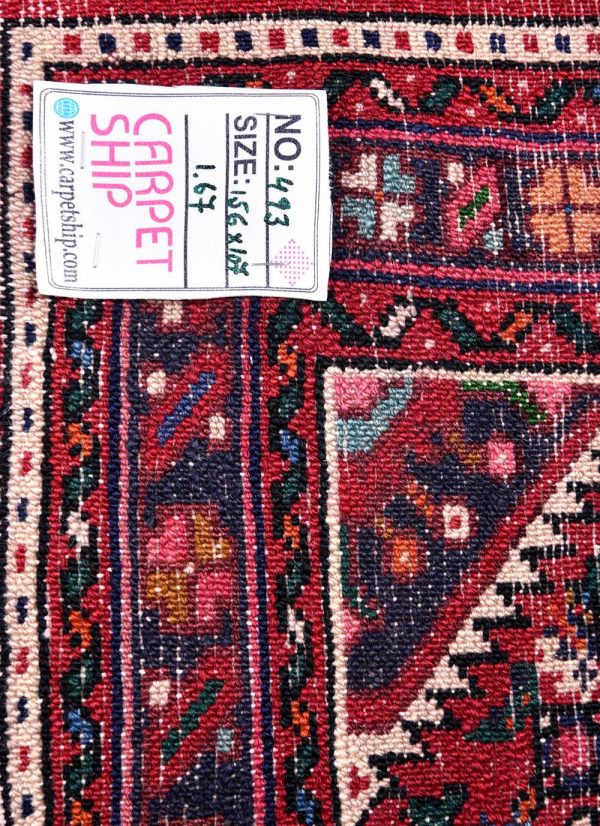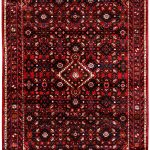 Tribal Persian Rug, Originated from Hamadan, Geometric Design ~1980
€ 335
A small handmade Persian carpet with 1×1.5 meters dimension and 40-year-old. This handmade Persian carpet known as the Hosseinabad carpet is woven in the Hamadan region,persian. The design is unique and rare and the pattern is full of tiny geometric motifs called Mahi. It's very elegant and durable.
Estimated Value: € 335 ( Make an Offer )
Description
Additional information
We appreciate and respect your interest in culture and art especially in Persian Carpets in advance.

With all respects if you intend to acquire this carpet the minimum estimated value of this carpet is €335 . You can acquire this piece of art by filling the form below.

After making an offer we will contact you to provide free consulting about buying this carpet or any other carpet from our collections that will fit your needs and satisfy your sense of art.
Description
Hamadan Carpets
Carpet weaving has been popular in Hamedan province since ancient times, but according to the writings of Cecil Edwards (a dealer in and authority on Persian carpets), Shah Tahmasp sent some carpets to the Sulaimaniyah Grand Mosque about 400 years ago, some of which were woven in Hamedan.
Hosseinabad Carpets
Hosseinabad is one of the famous carpet weaving centers in the Hamedan province of Iran. Hosseinabad carpet is similar to Angelas and Tuyserkan carpets. The main feature of the Hosseinabad carpet is distinct geometric designs with Herati and plant motifs. Red, blue, and ivory are the predominant colors of the handmade carpet. This type of carpet is usually woven on cotton warp and weft and is very durable. The pattern is mostly a bed of tiny flowers and plants on a crimson background, with a delicate medallion with a geometric design in the center.
About This Hosseinabad Carpet
This is a rare carpet of Hosseinabad that is 40 years old. This is a very strong and dense Persian carpet and is woven with double weft on a vertical carpet loom. In the design of this handmade carpet, 5 different colors have been used. The design of this rug is called Rize Mahi (tiny fish). A very tiny design of a Mahi Darham (In and out fish design) so that it is not possible to design a smaller one is called a tiny fish design. The density of knots in this handmade Persian carpet is 180,000 knots per square meter.
The warp and weft of this durable carpet is cotton and natural sheep wool is used for its pile and knots. Finally, this small Persian carpet is 156 cm long and 107 cm wide and is suitable for small rooms, corridors, kitchens, and in front of the entrance door.
Order this unique design, authentic and rare Persian carpet now!
Additional information
| | |
| --- | --- |
| Color | Red |
| Size | 152x100cm |
| Manufacturing | Handmade (Knotted by hand)) |
| Age | Approx 40 years |
| Carpet ID | DR-215 |
| Knot density | |
| Matreial group | |
| Origin | |
| Carpet Pattern | |
| Carpet Pile | |
| Carpet Warp | |
| Similarity | Unique |
| Also known as | |
Availability:

1 in stock
SKU:

DR-493