In this article we show you different types of Persian carpets and how you can authenticate an original rug.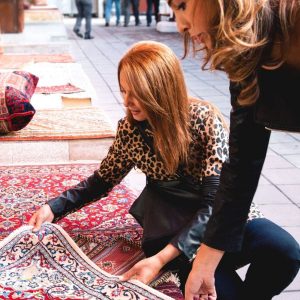 For a while now, the trend of recovering past elements and giving them a creative and original touch to decorate has been observed. One of these cases is Persian rugs. Surely you've seen them in a lot of places, And no wonder. Their nuances, their colors and their texture make them a unique element for the most daring houses.
Persian carpets, apart from dressing the floor, make it much more elegant. In fact, they were formerly used in the homes of the wealthiest people as a sign of power and wealth. Before introducing them to the decoration of our house, we must know how these carpets are and which one is better depending on our style. Therefore, in today's post, we tell you all the tricks and tips to buy an authentetic persian carpet and show you some most famous kinds of persian carpets.
The Persian carpets are always in fashion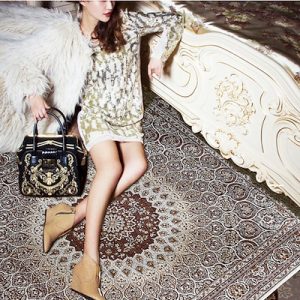 Some of the most famous Persian rugs are made of wool, cotton and camel hair. They are decorated with plant colors that are obtained from plants. The knot of the Persian carpet is asymmetric and simple giving a very delicate effect. All of them are hand-knotted and that makes them have irregularities in size giving that different point. Therefore, all are different from each other, they are really unique.
We believe that Persian rugs are a piece that goes well in any decoration and why? Well, it is an element that will never go unnoticed and if we know how to locate it, it can become our crown jewel!
Original Persian carpet recognition
The first thing you should know about these rugs is their material. They are made of wool, silk, and cotton. Wool and silk give that velvety touch and cotton serve for the weft and the warp. Then, look at the color. If they are very striking colors and the threads look synthetic and of poor quality, you will realize that it is false. Also, if the color of the carpet surface looks lighter than at the base of the warp, then the wool has been dyed with synthetic colors.
Make sure that the wool warp base is strong and looks shiny. You have to be very careful with this because currently, there is a large black market that markets with these pieces. The original ones are very delicate and they are taken care of very well with a very soft wrap so as not to damage the carpet.
Persian Carpet types
There are a lot of Persian carpet models. Depending on the drawings you like, you can choose between one or the other. The ones people like the most are the following.
Kashan carpet: its design features quite interesting color curvatures. All of them are characterized by including a kind of medallion in the center and Persian floral themes. They are one of the prettiest and best quality you'll find.
Qom carpet: these carpets have the peculiarity of their drawings since they represent the nature, cities and important facts of the story. Normally, its size is not very large, so they will look great in small corners of the house. In fact, many decorators bet on putting them on the walls since they are very thin.
Isfahan carpet: The design of this type of carpet is very symmetrical and, like the Kashan, they usually have a medallion in the center. The colors in which these types of carpets move are ivory with blue and pink, what a great combination!
Afshar carpet: Afshar carpets have great quality. Their geometric patterns give them a special and unique point, always following the straight line. The colors used are light red, khaki, and ivory.
Tabriz carpet: Without a doubt, the type of Persian carpet that is best known in the world is the Tabriz carpet. Perhaps it is the most classic and common Persian carpet that we can find. It is made through a complicated technique of very small knots.
Cheer up with Persian rugs and be original, you will not regret it!