Where Mashad rug from?
Mashad rugs come from a city called Mashad. The holy city of Mashad is in eastern Iran, in the huge province of Khorasan. Mashad is the holiest city in Iran; this is where the eighth imam died and was buried in the year 817. Carpet manufacturing is extensive in Mashad and most Mashad rugs carry medallion motifs. The Mashad rug is famous for its softness. We classified Mashhad rugs into two groups: the Mashhad carpet and the Turkbaf Mashhad carpet. Usually, Mashhad rug is knotting with a Persian knots but Turkbaf Mashad rug, as the name implies, uses Turkish style of knots by artisans who emigrated from Tabriz to Mashhad in the 19th century.
Mashad rug design and motifs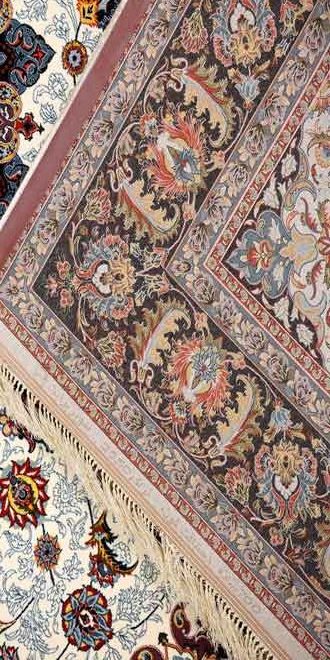 Both groups of Mashad rugs carry the floral motif called Islimi. The main type of the Islimi motifs is the rotating branches between the leaves. These branches are abstracted from tree designs. Thin wavy scrolls appear throughout the field. The central medallion in Mashad rugs is usually round.
Mashad rug colors
The colors in Mashad rugs are vivid, with a predominance of red. The edge is formed by two or three lateral bands, quite narrow, decorated with flowers, and by a long central band adorned with the Islimi motif or with flowers in rectangles or rhombuses.
Mashad carpets size and quality
If you are looking for a rug for large areas, such as your room or living room, a Mashhad rug is ideal for you. Since its production comprises sizes greater than 200x300cm. They make a good Mashad rug with the soft wool of Khorasan. These Persian rugs are mostly symmetrically knotted and contain a density of 160,000-350,000 knots per square meter. Two weft threads with cotton yarn and a warp of the same material as a supplement characterize this class of oriental rugs.
ORDER YOUR MASHHAD RUG ONLINE
There are many large Persian rugs. Mashhad rugs are a good example of them. In our Online Store, you can find a whole range of Mashhad rugs for your home. Either for the dining room or for the living room, you can easily request a Persian Mashhad rug online.