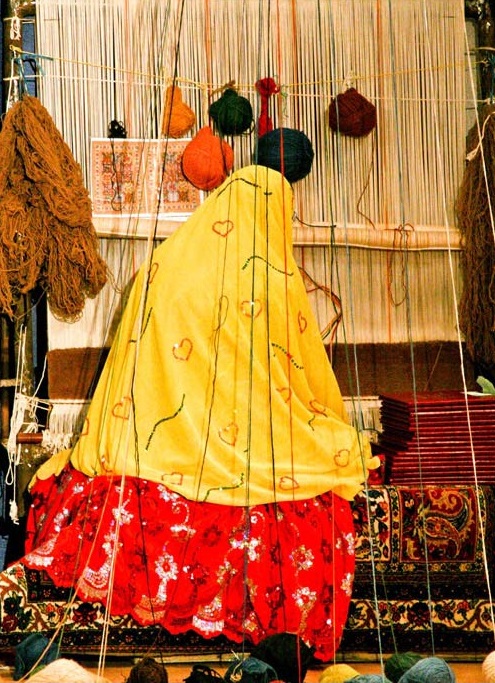 The Origin of Bakhtiari Carpet
The Bakhtiari carpets and rugs are from Bakhtiari nomads. The Bakhtiari nomads live in the Zagros mountains, west of the city of Isfahan and near the Shahre Kurd city. Most of them speak a Persian dialect called Lori, while others who live in the province of Khuzestan speak in Arabic. Bakhtiari men wear wide pants, round-shaped hat, and a short tunic. This clothing has its origin in the dynasty of the kings (The Parthian Empire 247 BC-200 AD) Traditionally Bakhtiar nomadic chiefs (khans) have held powerful positions in Persian society.
In the Chahar Mahal and Bakhtiari region, there is an extensive area of ​​traditional carpet production of nomadic villagers from diverse backgrounds. Today there are about 200 villages in the area with carpet weaving and the world's most beautiful carpets can be found there. They set carpet weaving loom up in many Bakhtiari homes.
We know Bakhtiari handmade carpets for their unique designs, Kheshti motifs, color variety and high durability.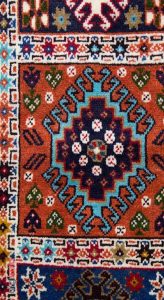 They sell the carpets under the common name Bakhtiari (also Bachtiar and Bakhtiar). Bakhtiari nomads make the carpets with high-quality wool which are hit very hard, that makes them thick and solid, which is why we consider them one of the most durable Persian carpets.
Bakhtiari carpet motifs and design
These original carpets differ from other handmade carpets in terms of texture, color, and design.  Bakhtiari carpets are easily recognizable by their motifs, designes, trees, and flowers, depending on their background. A well-known motif in Bakhtiari carpets is the Kheshti (garden), where the carpet divides into squares with plants and animals that symbolize the Persian garden. They weave Bakhtiari rugs in different sizes. Larger carpets are rarer and definitely have more price.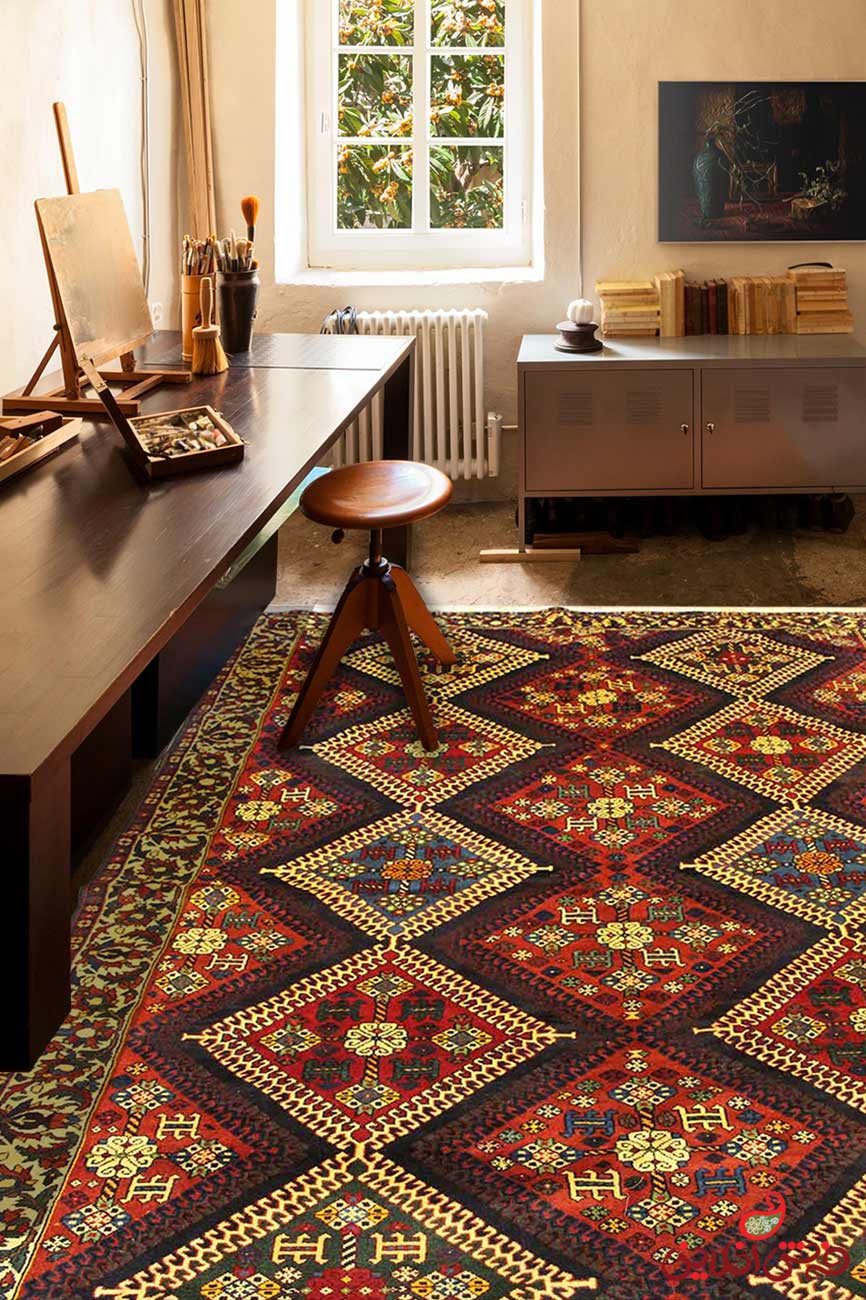 The carpet segmentation can be rectangular, rhombic or hexagonal. The interesting feature of Kheshti motifs is that the colors and patterns of each section are usually different from those on the side. The result fascinatingly combines designs and colors that you can watch for hours and discover new beauties.
they decorate most of the older Bakhtiari carpets with native plant and animal species. Artists have adopted more inclusive designs in recent years to meet the needs of the global carpet market, and today they weave some carpets with the modern theme. Unlike most Perisan carpets, we can rarely see curved designs in Bakhtiari carpets, but we find geometric designs on some Bakhtiari carpets.
Bibibaf carpets is one of The best Bakhtiari rugs which have the highest knot density.
Bakhtiari handmade carpet has a firm, thick and durable texture and is one of the brightest and most colorful tribal carpets. Bakhtiari carpets were originally shepherds, and each weaver used his sheep's wool. The wool of Bakhtiari sheep is very high quality and its woven rug is very exquisite. Bibibaf Carpet is a Bakhtiari carpet that only women weave that and is one of the most luxurious and traditional carpets of Chaharmahal & Bakhtiari. The Saman and Chapel Shotur carpets are among the top carpets of this area.

The main difference between Bakhtiari carpet and other Persian carpets is its colorfulness. Original carpets, especially carpets older than 50 years, used herbal dyes. Black, blue, green, brown, gray, white, red, orange and yellow appears on the Bakhtiari rug. Some of these colors are from natural wool like brown, black and white, and they take others from the vegetables, plants, and fruits. For example, they take the light blue from the indigo plant, the green from the jujube (rhamnus Chlamyphorus), the brown from the walnut or bark of oak, the red from the rubia tinctorum and the yellow from the pomegranate. They also get the red color from a red insect.
Bakhtiari Carpet Design
Bakhtiari's most popular carpet design is a garden design. They adorn whose houses or bricks with flowers and ivy. Background with a lattice design and flower and shrub arrays is another design of Bakhtiari carpets.
Bakhtiari rug Quality
In the Chaharmahal & Bakhtiari area, they weave carpets of various qualities and prices, ranging from the typically used carpets to the collectible carpets. the Bibibaf, Chapel Shotur and Saman rugs are high-quality carpets.
Shape and Size: Usually, small carpets are woven up to 1.5m by 2.20m and narrow runners. They also weave large rugs in workshops up to 4 by 5 meters. 
Bakhtiari Carpet Color
Bakhtiari carpet has a great variety of colors and the creations of several hundred villages of Chaharmahal and Bakhtiari are unique in color. The main colors are a variety of white, ivory, red, brown, green and yellow, and sometimes blue. Natural dyes produce a harmonious color spectrum, especially in older carpets.
Bakhtiari Rug Price
Old Bakhtiari rugs and antiques are rare treasures sold to collectors at high prices. Nomads' carpets are attractive, and their beautiful design distinguishes them from other carpets. Old Bakhtiari carpets are high value, but newer carpets have a reasonable price.