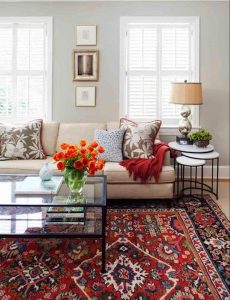 Persian carpet and Persian rug decoration tips and guide
The carpets can completely change the look of a room. In fact, they are very effective decorative elements. The carpets are capable of dressing any space with elegance, conveying a feeling of warmth, thermally insulating and delimiting spaces. You must choose carpets depending on the use you want to give them and the budget you have. Logically, acrylic, nylon or propylene are more affordable, but if you want to give an exclusive air to any environment, you should bet on those that are woven with natural fibers, which are more valuable. Among them, we find the Persian carpets who, it seems, already was existed 500 years before B.C.
According to researchers, Persian carpets arrived in Europe in the thirteenth century. In fact, we can observe them in paintings by renowned artists of the time. With the passage of time, they remain very exclusive decorative elements. If you want to add one of these carpets to your home, we recommend that you be very attentive to what we tell you next, since we are going to give you some practical tips. Can you come with us?The main advantage of Persian carpet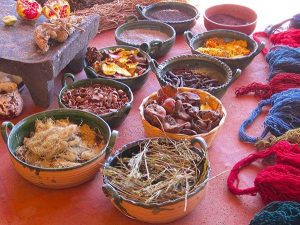 Persian carpet natural materials
Before giving you the keys to decorating with Persian carpets, we want to give you the keys to differentiate them from the rest. Thus, it is important that you keep in mind that although the Persians originally used insects and plant remains for their preparation, today they are made with sheep wool, silk, and cotton. In this sense, you should know that wool and silk are mostly used for velvet, while the plot is usually made of cotton. In older ones, gold, silver or silk threads were also used.
As for the knot, it is asymmetric and simple. On the other hand, you should know that depending on the area, the motifs may be different: simple geometric figures, rhombus in the center, cashmere designs, etc.
Regarding the colors, the most common are earthy colors such as ocher, red and brown You should also know that Persian carpets are being knotted by hand, they do not have the standard measures of carpets. In fact, each Persian rug is a unique piece.
Persian carpet is ideal for different decorative styles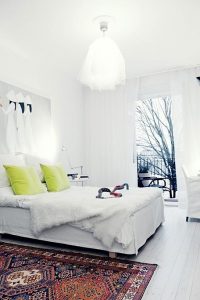 Scandinavian Nordic modern decorating Persian carpet rug
Despite being classic pieces, Persian carpets fit very well in environments of different styles: minimalist, classic, modern, avant-garde … Of course, you should know that today it is fashionable to incorporate this type of carpets in Nordic- style rooms since in spaces where neutral colors predominate, these decorative elements stand out even more.
In addition, you know that the Nordic style, which is the one that mixes Scandinavian decoration with ethnic elements, is a trend right now. On the other hand, you should know that being dark and recharged, they are better in white and bright environments. In addition, it is preferable that the space upholsteries are smooth.
On the other hand, we want to comment that Persian carpets stand out more on wooden floors, especially light wood. Of course, they can also be ideal for marble floors. It is also important that you keep in mind that depending on the furniture and the walls that are going to be on and around the carpet, the result can be more or less flattering. If you want the carpet to stand out, then the ideal is to bet on neutral pieces and colors, although it is better not to be very similar shades to that of this decorative element.
In fact, when choosing the Persian carpet you will have to flee from excessive formalism since if its tones are very similar to those of the decoration of the rest of the room, it will lose all its charm. Finally, we want to comment that it is preferable that there is an edge of a few centimeters of the original floor to create that much-needed contrast.