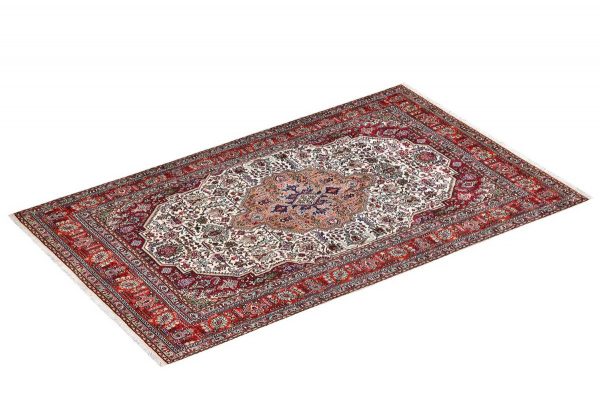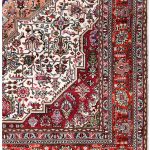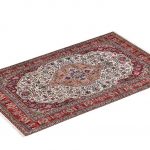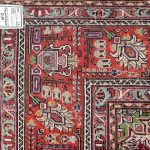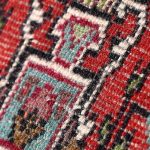 Vintage Persian Rug,Originated from Tabriz,Geometric Design~2000
€ 2,378
These are fine, beautiful Persian carpets to decorate your rooms. These win handmade carpets  with six square meters area, have an ivory background color and patterns of trees and flowers. Also, the red color used in the margins will make your rooms an exciting, warm, and energetic place.
Description
Additional information
Persian Tabriz carpets
Reviews (0)
Description
These carpets are twin fantastic Tabriz carpets with short and rough fluff. The pattern of these carpets is called Ghoba and includes a medallion in the middle, which is surrounded by geometric and Islami motifs with sharp edges, and Cedar and Crazy Willow Trees with light shades that create depth in the pattern. Besides, these Tabriz carpets have a great variety of colors from Ivory, bright red, barn red to a peach color.
The wool used in these handmade carpets is one of the best goat wool produced in Mako. The warp and weft of carpets is made of cotton, which makes the handmade carpets strong and long-lasting. The yarns used in both carpets are dyed in the traditional Iranian way and in dyehouses with more than 200 years of age, with the utmost precision and skill, and have a high color fastness and durability. In the design of these Ghoba carpets, some cold and warm colors have been used together, and traditional and modern motifs have made these twin carpets more beautiful and innovative.
In these Tabriz carpets, high quality double-knot weaving method has been used and the knots have been woven in a very regular, delicate and precise way. These handmade Tabriz rugs has been knotted by hand for almost 20 years. These rugs are authentic Persian rugs with 307 cm length and 204 cm wide and 301 cm length x200 cm wide. Besides, they have approximately 160.000 knots in each square meter.
No allergenic natural colors

Natural color

Made of best quality Tabriz wool

Heigh density of knots
Two 2×3 meters Tabriz carpets for sale. These 20 years old Persian carpets with Ghoba design are for sale. These are two similar Tabriz carpets with 160.000 knots/sqm density.
Additional information
| | |
| --- | --- |
| Color | Ivory |
| Size | 301x200cm, 307x204cm |
| Manufacturing | Handmade (Knotted by hand)) |
| Age | Approx 20 years |
| Carpet ID | DR-308, DR-492 |
| Knot density | |
| Matreial group | |
| Origin | |
| Carpet Pattern | |
| Carpet Pile | |
| Carpet Warp | |
| Similarity | Twin |
| Also known as | |