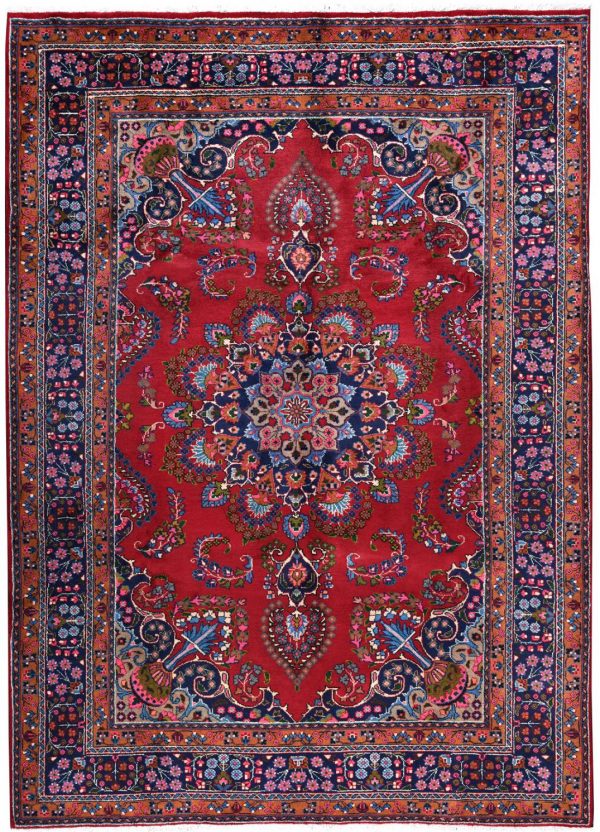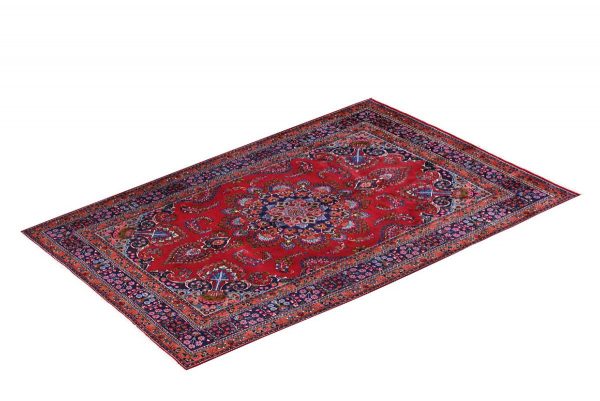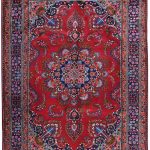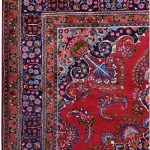 Vintage Persian Rug, Originated from ~Mashad, Floral Design ~1980
€ 787
A 2×3 meters and 40 years old handmade red carpet with high-quality wool. A spectacular and unique design red carpet, with red and blue wildflowers on the borders, colorful vases in the edges, and a large, beautiful, and colorful medallion in the center.
Estimated Value: € 787 ( Make an Offer )
Description
Additional information
We appreciate and respect your interest in culture and art especially in Persian Carpets in advance.

With all respects if you intend to acquire this carpet the minimum estimated value of this carpet is €787 . You can acquire this piece of art by filling the form below.

After making an offer we will contact you to provide free consulting about buying this carpet or any other carpet from our collections that will fit your needs and satisfy your sense of art.
Description
One of the characteristics of a handmade Vintage Persian rug is that you will find peace of mind and enjoy it by seeing its various
design and color. This weave design-plain Persian rug that have a simple bergamot background and around their elasticity meanwhile many people prefer to buy a vintage Persian rug with the simple design, it can be very stylish and attractive and are a good choice for modern decoration. In modern Decor, you can use any red you like, Be Bold in choosing red for the decoration of the environment, Start with a small space to realize its amazing effect that you will definitely not regret it. Anyhow, it has a high ability to coordinate and set.
This vintage light red Persian rug is suitable for smaller rooms, Red color is a symbol of happiness, joy, luck, courage, wealth and vitality.
This vintage Persian rug is from Sabzevar close to Mashhad city in Khorasan. Its wool has always been known as the best type of wool in the world, this vintage Persian rug had this quality wool too and cotton is first class in this province.
MR Hans E. Wolf, author of the book *Historical Handicrafts of IRAN* believes that the quality of wool is different in different parts of Persia, in his book he pointed out that the best type of wool belongs to Khorasan, Kermanshah and Kurdistan.
Dyes are used in natural forms, in the past, dyeing was done by an empty-handed carpet weaving master with the help of a weaver, there are more than 20 types of dyes used in Sabzevar carpet industry and symmetrical Turkish knot used. In the years before the forties, the designs of sabzevar Persian rug region were taken from the common designs of the province, especially Mashhad.
The primary and natural fibers of this vintage Persian rug are wool and cotton that do not generate electricity and this is a tangible advantage for this Vintage Persian rug, In such designs unlike the simple background, the border is full of patterns.
Specialized Washing and Repairing before to Export for customer:
1- First of all, this Persian carpet had specialized washing and removed its impurities completely.
2-Service <Repair> will increase the life of this Vintage Persian rug and restore its beauty and refurbishing the hand made Persian carpet, it is revived and its minor defects is eliminated, to perform these metals so that you have full.
3-Before Packing and Export Final checking without any damage, it looks like Healthy.
No allergenic

Natural color

Made of best quality natural materials like wool and cotton

Unique design
This is a 2x3m Handmade Sabzevar Red carpet for sale. A high-density Sabzevar Red Carpet with a design og vases and flowers. This Persian carpet is for sale online in Carpetship online store with high quality.
Additional information
| | |
| --- | --- |
| Color | Red |
| Size | 294x203cm |
| Manufacturing | Handmade (Knotted by hand)) |
| Age | Approx 40 years |
| Carpet ID | DR-135 |
| Knot density | |
| Matreial group | |
| Origin | |
| Carpet Pattern | |
| Carpet Pile | |
| Carpet Warp | |
| Similarity | Unique |
| Also known as | |
Availability:

1 in stock
SKU:

DR-135