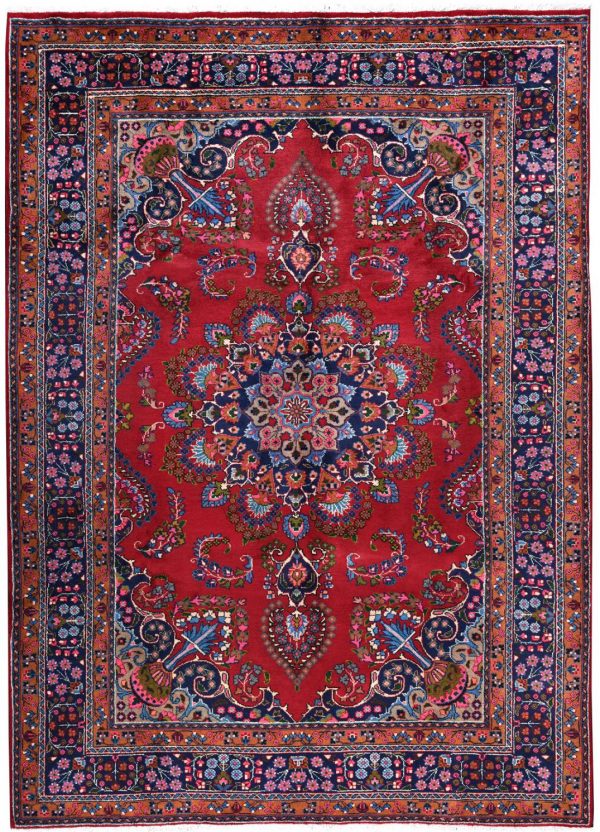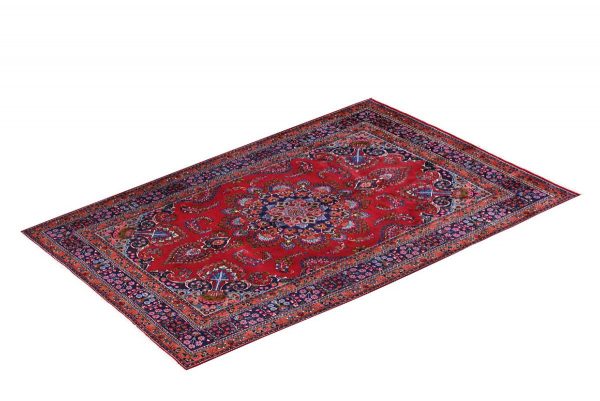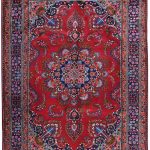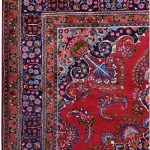 Vintage Persian Rug, Originated from ~Mashad, Floral Design ~1980
€ 787
A 2×3 meters and 40 years old handmade red carpet with high-quality wool. A spectacular and unique design red carpet, with red and blue wildflowers on the borders, colorful vases in the edges, and a large, beautiful, and colorful medallion in the center.
Estimated Value: € 787 ( Make an Offer )
Description
Additional information
We appreciate and respect your interest in culture and art especially in Persian Carpets in advance.

With all respects if you intend to acquire this carpet the minimum estimated value of this carpet is €787 . You can acquire this piece of art by filling the form below.

After making an offer we will contact you to provide free consulting about buying this carpet or any other carpet from our collections that will fit your needs and satisfy your sense of art.
Description
Sabzevar Carpets
The website of the National Carpet Center of Iran quoted a book by Timur Lang's (a 14th Century Central Asian Ruler) memoir called "I Am Timour, World Conqueror" as follows:
"… I was told that in Sabzevar, three hundred thousand artists work in carpet weaving factories, and it is the largest center of carpet weaving in the world. I could not believe that Sabzevar has three hundred thousand carpet weavers, but I knew that no place in the world weaves carpets more than Sabzevar."
Sabzevar is an ancient city in eastern Iran. Sabzevar is the second-largest city in Khorasan province after Mashhad in carpet weaving. Carpet weaving in Sabzevar is more than one hundred years old and some even estimate its history to be 800 years. Sabzevar original handmade carpets are one of the best-woven carpets in eastern Iran. The wool and cotton used in the carpets of these areas are among the best. The designs used in Sabzevar carpets are also very beautiful, luxurious, and unique. Very diverse and happy colors are used in these carpets and sometimes the variety of colors reaches 20.
A Persian Handmade Red Carpet for sale
This forty-year-old red carpet is woven in Sabzevar with flower and vase patterns and is very beautiful and unique. This 2×3 meters red carpet with dimensions of 294 cm by 203 cm, and with a density of 180,000 knots per square meter, has been woven by Sabzevari carpet weavers. Sabzevar city produces high-quality wool and cotton, and this carpet is woven with local wool and cotton. The colors used in this red carpet are organic, natural, and very diverse, and red, pink, dark blue, light blue, brown, and white colors are used to make motifs on it.
You can buy this beautiful Iranian carpet in the online store of Carpetship handmade carpets at a very reasonable price.
No allergenic

Natural color

Made of best quality natural materials like wool and cotton

Unique design
This is a 2x3m Handmade Sabzevar Red carpet for sale. A high-density Sabzevar Red Carpet with a design og vases and flowers. This Persian carpet is for sale online in Carpetship online store with the cheapest price and highest quality.
Additional information
| | |
| --- | --- |
| Color | Red |
| Size | 294x203cm |
| Manufacturing | Handmade (Knotted by hand)) |
| Age | Approx 40 years |
| Carpet ID | DR-135 |
| Knot density | |
| Matreial group | |
| Origin | |
| Carpet Pattern | |
| Carpet Pile | |
| Carpet Warp | |
| Similarity | Unique |
| Also known as | |
Availability:

1 in stock
SKU:

DR-135