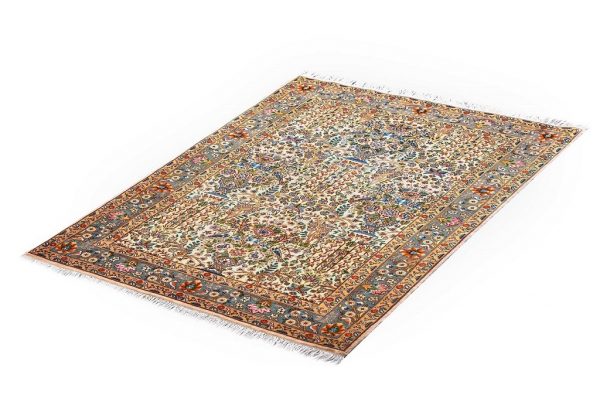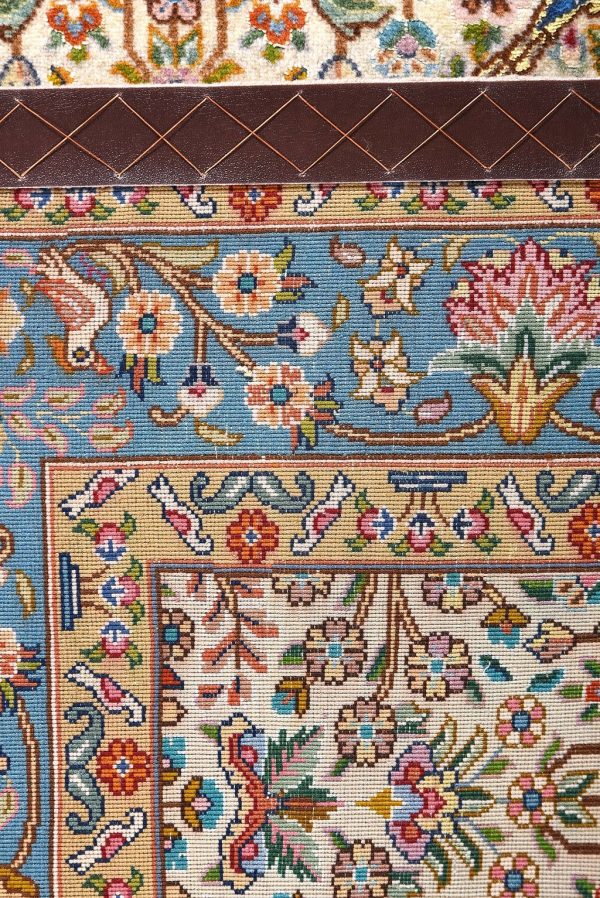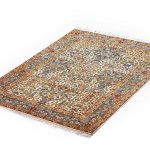 Small Persian Rug – Handmade Silk Rug – DR466
€ 649
A small, beautiful and unique Iranian handmade rug woven from silk and cork that has a vase design with beautiful flowers and birds.
Description
Persian Tabriz carpets
Description
This is a 20 years old Tabriz Silk Rug. This small rug is woven in dimensions of 147 by 106 cm and has a density of 50 knots per 7 cm square. This is a small Persian handmade rug that has a unique design and beautiful pattern. The whole rug is decorated with beautiful, colorful and leafy flowers, vases and birds. The colors used in this rug are very bright and eye-catching which make it very attractive. In this rug, a mixture of silk  and soft wool (Kurk) is used for pile, which makes its surface very soft and nice.

No allergenic natural colors

Natural color

Made of best quality Tabriz wool

Heigh density of knots
A luxury and antique Silk Rug. This is a 20 years old 1×1.5 meter handmade Tabriz rug. This rug is for sale online in Carpetship online store with the cheapest price and high quality hand-knotted rug.
Additional information
| | |
| --- | --- |
| Color | Cream |
| Size | 147x106cm |
| Manufacturing | Handmade (Knotted by hand)) |
| Age | Approx 20 years |
| Carpet ID | DR-466 |
| Knot density | |
| Matreial group | |
| Origin | |
| Carpet Pattern | |
| Carpet Pile | |
| Carpet Warp | |
| Similarity | Unique |
| Also known as | |
The super finest textures and most colorful Persian carpets are woven in Tabriz.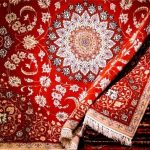 Tabriz carpet or Tabriz rug is a type of Persian carpet. Tabriz, a big city in northwestern Iran, was a historic center of carpet production and is a region well known for its carpets. After the mid-nineteenth century, Tabriz relaunched carpet production and has become a production center for export to all over the world.
Tabriz carpet pattern usually is consist of flower decoration, often with a central medallion. The motifs include flowering trees, shrubs, and large leaves. There are also specimens with animals and plant motifs. In Tabriz carpets, generally, there are three bands at the edge, adorned with the motifs of the field.
The city of Tabriz is located 600 km west of Tehran and is one of the largest cities in Iran and the capital of East Azerbaijan Province. The population of this region consists of Azeris who constitute the largest ethnic minority in Iran and speak Turkish. This ancient city has been considered an important trading post and border station for centuries.
Most of the wool used in the Tabriz carpet weaving industry is produced from the Mako region. Mako wool is very high quality but slightly rougher than the wool produced in other parts of Iran. These features have made Tabriz carpets a little rougher.
The finest handmade carpets in the world are woven in Tabriz. In Tabriz, carpets knots are knotted by hook and are of symmetrical (Turkish) type. Moreover. Tabriz rugs are weaving in the form of two wefts that one of them is thick and the other is thin. The first string is in white or gray, which is intended to bulk up the rug and increase its flexibility and passes through the warp yarns that are located on the two surfaces below and above. The second thread, which is often blue or red, passes through the warp threads, with the difference that it tightly connects the warp threads that separated the first weft.
Tabriz carpets' warp is often from cotton so that they are very strong and durable. They also are woven with the woolen weft. The fibers used in this handmade Tabriz carpets are of high-quality wool. The pile is short, and they are knotted carefully by skilled people. Tabriz carpet's pile is usually short and knotted by skilled people.