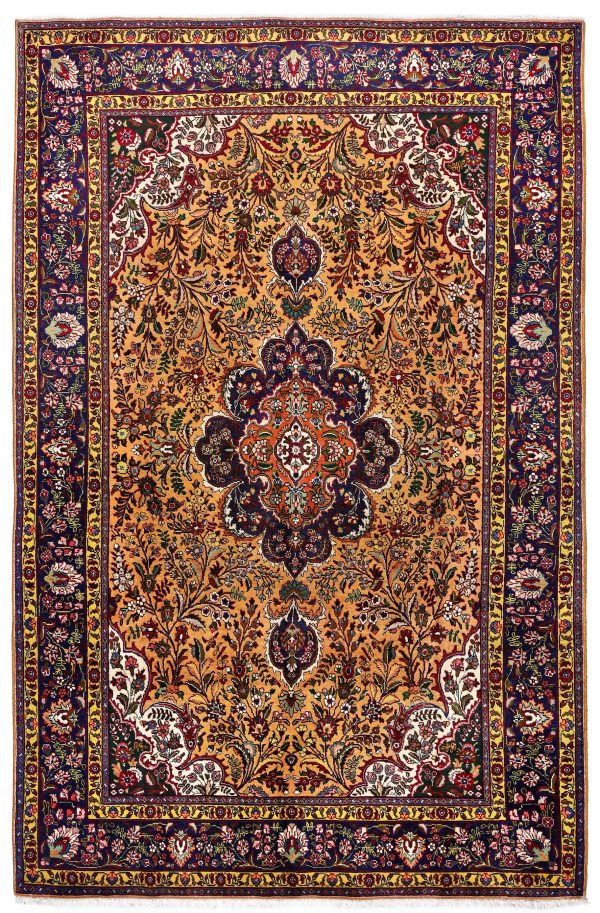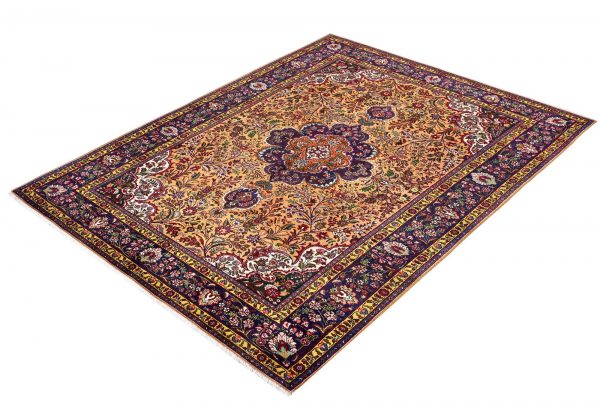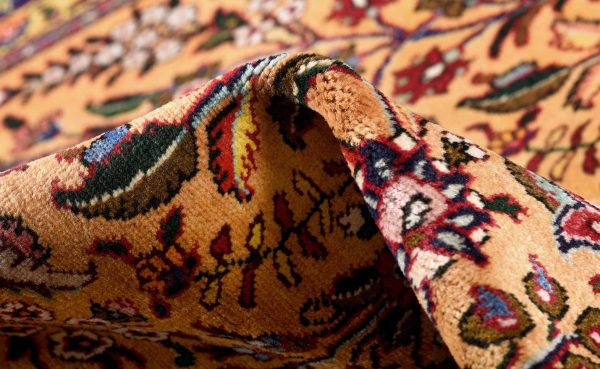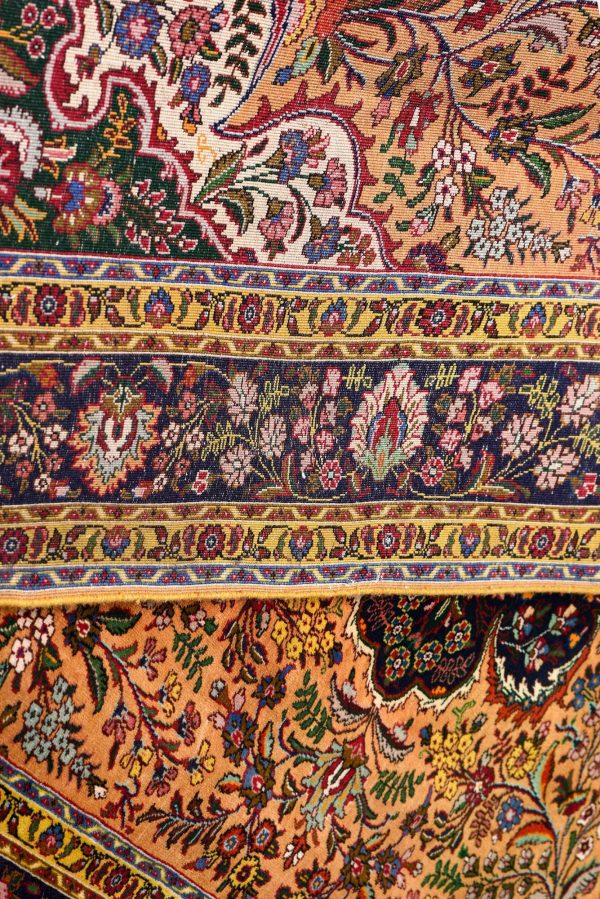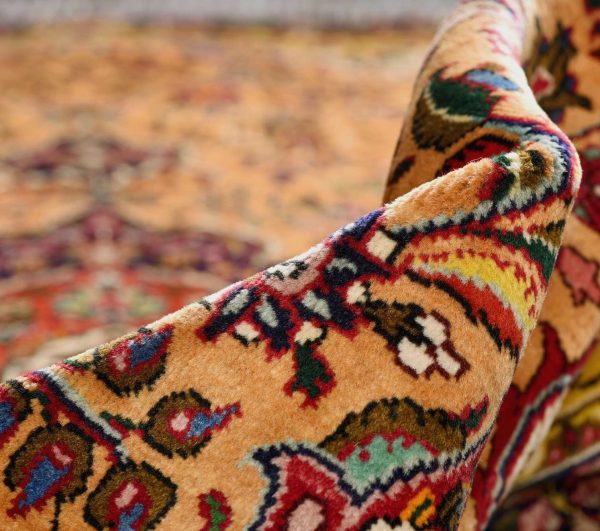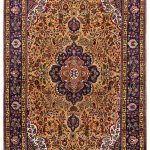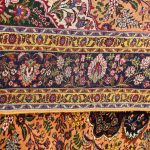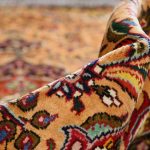 Gold Tabriz Rug, Yellow Persian carpet for sale 2x3m DR402
€ 4,500
It is a fantastic and unique Persian carpet to decorate your luxury house.  Also, it gives your room a royal spirit and makes it more exquisite. The gold and yellow colors within this carpet represent abundance and prosperity. Moreover, This carpet will give your house more prestige and sophistication.  In business offices, it represents success and triumph. So, If you want to project an image of wealth and prestige, this rug is a good choice. Finally, this high quality 2x3m Tabriz hand-knotted Persian rug, with its unique design, inspires knowledge, spirituality and a deep understanding of the self and the soul.
Description
Persian Tabriz carpets
Description
This rug is a unique Persian carpet which is knotted in Tabriz over 40 years ago. The main background colors of this rug are dark gold and blue. Actually, the weavers extract these dyes from natural elements like the indigo plant and saffron. َAlso, These colors have nice harmony with the pattern, which makes this rug more beautiful and worthy.
The pattern and motifs are unique traditional garden and flowers motifs which according to the main color we can call it the golden garden. Its density is 180.000 knots/square meters and its warp and woof are from cotton. Also, The pile and knots are from the best Tabriz wool which makes it a durable and strong carpet. In addition, This carpet has a similar and brighter instance (DR-401).
No allergenic natural colors

Natural color

Made of best quality Tabriz wool

Heigh density of knots
Yellow Tabriz rug, Gold Tabriz carpet, Golden Persian carpet for sale online in Carpetship online store with the cheapest price and high quality hand-knotted rug. luxury and antique Persian carpet.
Additional information
| | |
| --- | --- |
| Color | Gold carpet, Yellow |
| Size | 204×308 cm |
| Manufacturing | Handmade (Knotted by hand)) |
| Age | Approx 40 years |
| Carpet ID | DR-401 |
| Knot density | |
| Matreial group | |
| Origin | |
| Carpet Pattern | |
| Carpet Pile | |
| Carpet Warp | |
| Similarity | Unique |
| Also known as | |
The super finest textures and most colorful Persian carpets are woven in Tabriz.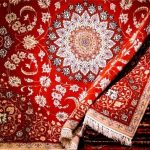 Tabriz carpet or Tabriz rug is a type of Persian carpet. Tabriz, a big city in northwestern Iran, was a historic center of carpet production and is a region well known for its carpets. After the mid-nineteenth century, Tabriz relaunched carpet production and has become a production center for export to all over the world.
Tabriz carpet pattern usually is consist of flower decoration, often with a central medallion. The motifs include flowering trees, shrubs, and large leaves. There are also specimens with animals and plant motifs. In Tabriz carpets, generally, there are three bands at the edge, adorned with the motifs of the field.
The city of Tabriz is located 600 km west of Tehran and is one of the largest cities in Iran and the capital of East Azerbaijan Province. The population of this region consists of Azeris who constitute the largest ethnic minority in Iran and speak Turkish. This ancient city has been considered an important trading post and border station for centuries.
Most of the wool used in the Tabriz carpet weaving industry is produced from the Mako region. Mako wool is very high quality but slightly rougher than the wool produced in other parts of Iran. These features have made Tabriz carpets a little rougher.
The finest handmade carpets in the world are woven in Tabriz. In Tabriz, carpets knots are knotted by hook and are of symmetrical (Turkish) type. Moreover. Tabriz rugs are weaving in the form of two wefts that one of them is thick and the other is thin. The first string is in white or gray, which is intended to bulk up the rug and increase its flexibility and passes through the warp yarns that are located on the two surfaces below and above. The second thread, which is often blue or red, passes through the warp threads, with the difference that it tightly connects the warp threads that separated the first weft.
Tabriz carpets' warp is often from cotton so that they are very strong and durable. They also are woven with the woolen weft. The fibers used in this handmade Tabriz carpets are of high-quality wool. The pile is short, and they are knotted carefully by skilled people. Tabriz carpet's pile is usually short and knotted by skilled people.